Landrou Sá
ARTIST BIOGRAPHY. LANDROU SÁ
PARANAENSE LANDROU SÁ AS IS KNOWN RESIDES TODAY IN SALVADOR, BAHIA. BRAZIL.
PLASTIC ARTIST, HISTORIATOR, WRITER, RESEARCHER AND STUDENT OF ALCHEMY, PHYSICS, SCIENCES, MATHEMATICS, SOCIOLOGY AND PHILOSOPHY.
AUTHOR OF THE BOOK DEFINITION REAL ART: THE ARTIST DOES NOT HIDE THAT HE WAS DIRECTLY INFLUENCED BY TWO OF THE GREATEST NAMES OF THE ART AND LITERATURE OF HIS FATHER, NAMES AS JORGE AMADO AND MARIO CRAVO. LIVED BETWEEN CASA DO RIO VERMELHO IN SALVADOR AND MARIO CRAVO'S WORKSHOP, THE ARTIST SURPRISES EVERYONE BY PRESENTING ART TO THE WORLD AS DEFINED IN THE 21st CENTURY.
IN THEIR FIRST PUBLISHED BOOK, THE ARTIST PRESENTS A DEFINITION OF WHAT ART IS IN FACT IN ANY AND ALL WAYS. THE DEFINITION PRESENTED AIMS TO BREAK THE BARRIERS OF THE ACADEMIC UNIVERSE AND SHOW THAT WE ARE ABLE TO DEFINE. DESA FORM WE PASAM AND BELIEVE THAT WE ARE NO MORE CONDITIONED TO LIVE IN AN OPINISTIC WORLD, JUST CULTURED IN ACHISM, AMONG THESES, THEORIES AND SOME CONCEPTS. THE ARTIST CALLS THE ATTENTION OF EVERYONE IN HIS WORK FOR THE IMPORTANCE OF ART IN THE DEVELOPMENT OF HUMANITY.
ITS STUDIES AND RESEARCHES TAKE THE ARTIST TO THE FIELD OF CONTEMPORARY ART - CALLING ASSOCIATIVE ART AND SO PRESENTING THE WORLD RESULTS OF THE UNION ART AND SCIENCE.
WITH A LIMITED ARTISTIC PRODUCTION DUE TO HIS COMMITMENT TO LITERATURE, STUDIES AND RESEARCHES FOCUSED ON THE AREAS OF HUMAN AND SOCIAL SCIENCES, HAS DIDN'T HAD HIS PROPERLY EXPOSED WORKS. CONCLUDING THAT EVERYTHING PUBLISHED IN HIS BOOK HAS BEEN PROPERLY PROVEN WHEN REQUESTED, THE ARTIST AIMS ONLY TO BE CONTRIBUTING TO A BETTER WORLD.
THIS IS THE VISION OF THE ARTIST, ALLIED TO HIS INSTINCT AND SENSES IN THEIR TIME TO BE, BE, EXPRESS,… .., ……, ……, AS A CAPABLE INDIVIDUAL.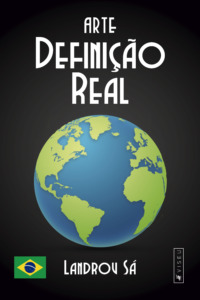 Showing all 2 results